Tagebuch
27.02.2005
German Radio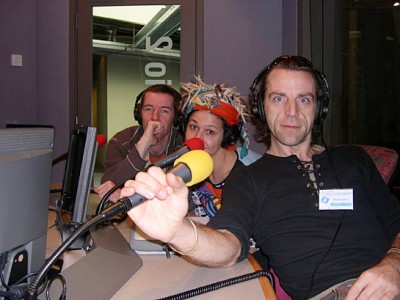 Strange but true:
Next Friday our next performance will take place in the Beckett Theatre @ the Malthouse, and although this is a wonderful stage in the middle of MELBOURNE we'll show the German version of our play.
It's a deal with the Consulate General of Switzerland, that's why.
But how do you find a German audience in a 5 Million City? Well, there are such strange places like the Swiss Club or the Hofbräu Haus, and there is even a Radio Station called SBS, that broadcasts not only in Greek, Vietnamese, Croatian, Burmese, Tongan, Yiddish, Polish, Maltese, Mandarin, Aboriginal but also in German!

However: We hope, that we are able to get a packed house with a German, Swiss and Austrian Audience. Fingers crossed!
26.02.2005
Neues Programm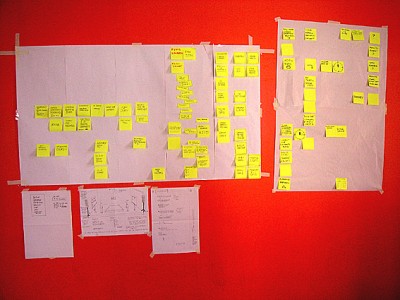 Unser Neues Programm hängt nicht einfach erst in der Luft, sondern bereits an unserer roten Probewand im «Space»:
Noch ist es eine Sammlung von Pinzetteln, die manchmal ganz viel, und manchmal ganz wenig bedeuten. Manchmal weiss man genau Bescheid über was denn was heisst, und dann wiederum kann man's kaum entziffern.
Vieles ist unklar, nur etwas ist sicher:
Wir brauchen Wasserflaschen aus Pet!
- und zwar quite a lot of'em!
23.02.2005
about Sydney last Weekend: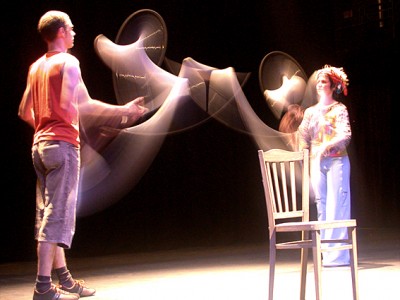 Something to be remembered:
Our get-in at the NIDA Theatre was at 2 pm.
For checking the sound, the lights, and to hang up some curtains we didn't need much time, so we started to rehearse some extra scenes, just to have them ready to perform as encores at the end of the regular play. We had a few people watching us, while we trained a very fast synchronised speech, then we did our dance with the ribbons and finally, as the photo shows, we even juggled us through the 6 club number.
But because that night, our show turned out to be long enough, we didn't get to these extra encores.
After 100 minutes of performing the audience was very happy and satisfied. Nobody was missing a thing but four people: The ones, that have been watching us in the afternoon. They were really puzzled!

Since years we were waiting for this to happen:
Checking in numbers in a new theatre, with a technical crew, that doesn't know us at all, and then, at night, performing something completely different.
That was awesome! At least for us.
We'll keep it in mind, like the other four guys, for sure!


22.02.2005
SYNCHRONISED SWIMMING –THE DRY VERSION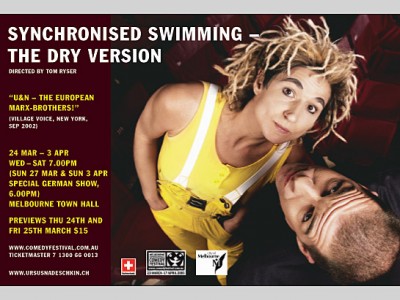 Each performance with U&N is fresh and unique. Unpredictable improvisations pepper theirshow making it impossible for us to know, what is rehearsed, and what is created by the dynamics between them. The spontaneity we witness has grown out of a long and intense partnership, as intuition and experience fuse into firm confidence on stage. Artistry of many forms, including physical and verbal acrobatics, are skillfully employed as U&N teasingly play to, against, and finally beyond the audience's expectations, leaving ussurprised as well as delighted by the spell they have woven.
Over the past 18 years and some 2000 performances, in the course of evolving from street clowns to television variety stars, Ursus & Nadeschkin have insinuated themselves snugly into the hearts of their audiences. Today they are among the most sought-after cabaret artists in Switzerland and Germany, having been honoured with all the major European cabaret awards.

"The show, like U&N themselves, demands to be seen. It's cause for celebration!" (nytheatre.com, august 2003)
"U&N – THE EUROPEAN MARX-BROTHERS!"
(VILLAGE VOICE, NEW YORK, SEP 2002)

24 MAR – 3 APR
WED – SAT 7.00PM
(SUN 27 MAR & SUN 3 APR SPECIAL GERMAN SHOW, 6.00PM)
MELBOURNE TOWN HALL
PREVIEWS THU 24TH AND FRI 25TH MARCH $15
WWW.COMEDYFESTIVAL.COM.AU
TICKETMASTER 7 1300 66 0013


AUSTRALIAN PREMIÈRE!
WRITTEN AND PERFORMED
BY NADIA SIEGER
AND URS WEHRLI
DIRECTED BY TOM RYSER
WWW.URSUSNADESCHKIN.CH
21.02.2005
Jane - our most charming Allrounder - Lady!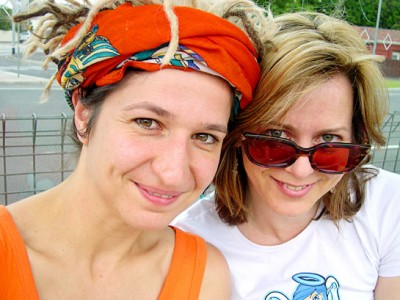 Das ist unsere Jane in Melbourne.
Sie managed uns Downunder, ist unsere Translaterin, unsere Regieassistentin, unsere Taxidriverin, unsere Textmakerin, unsere Vorzimmerlady für calls in any situations, und, und verdient endlich ein Kompliment!
Jane, your're great!
Thanks for EVERYTHING

...und hier ein kleines Example, eines Janemade Text's, der heute mit einem 4000 adressenstarken Swingnewsletter verschickt wurde:

«Nadja is in town (famous comedian and swing dancer)
If you're out social dancing at the mo you will have seen our fave Swiss gal Nadja, with the blonde dreddies, strutting her cool hip hop swing style about. You may've seen her at the cabaret nite at Swing City Melb on her last visit. Well, we're all in for a major treat, she's out here now to perform with her comedy partner for the MICF (Melb Int'l Com Festival) as well as a special German show at the Malthouse on Fri March 4th.
They are VERY funny, I've been D.A-ing for their rehearsals and my sides are aching from laughter ... so, if you're up for a good belly laff, come along, hope to see you there ....»

DETAILS:
Ursus & Nadeschkin
Synchronised Swimming - the Dry Version (in German, well mostly)
March 4th @ 8pm (and munchies after) Beckett Theatre CUB Malthouse Tix $28 & $22 conc Bookings 9685 5111 (or at door if there are any left!)

Also look out for their shows (mix of English & German and Sign!) at the Melbourne Intn'l Comedy Festival from March 24th - April 2nd. Check out www.ursusnadeschkin.ch on the English link for more details.